The payroll function holds a complex position within your business. It's a vital business process, yet provides no growth value to the organisation. As a zero sum, mandatory business task, there's little argument for managing the process internally and retaining your own payroll teams. In fact, it typically detracts your HR and Finance teams from higher value tasks and is resource and cost heavy to administer. In short, outsourcing payroll saves you time and money. 
Considering outsourcing payroll to a third-party provider? We interviewed the team at Qualitas to find out why 61% of businesses are out-sourcing payroll in 2022, and why you should too. Here's a summary of their responses: 
Outsourcing payroll allows your team to focus on strategy instead of tasks. 
With an ever-increasing workload in highly regulated environments, your HR and Finance teams are undoubtedly time poor facing constantly more demanding KPIs. Using a third-party payroll provider lets your HR people concentrate on managing employee well-being and hiring the best people, a massive challenge during the Great Resignation. Likewise, when your Finance team are unburdened with repetitive payroll administration that can be easily automated, it lets them focus on strategic work that has a big impact the bottom line. Like balancing your equity portfolio, managing risk, budgetary planning and providing the sort of MI that allows your entire management team to make informed decisions. 
Outsourcing payroll reduces your tech stack costs and upkeep
Manual administration of payroll is a thing of the past. To futureproof your payroll services, you need compliant, HMRC approved software that constantly evolves with roadmap for Making Tax Digital and meets the taxman's approval. 
Software investment can be costly, and it requires constant upkeep. Expert payroll providers like Qualitas operate on leading edge payroll solutions. This typically means firms can access our payroll services for a low cost per head, eliminating the need for investment in payroll software and resources.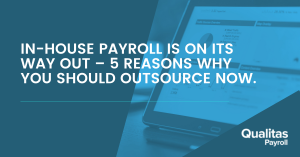 Outsourcing payroll makes regulatory compliance fool-proof 
At Qualitas, we use HMRC approved software and enhance the software's capabilities to centrally manage all HMRC needs and compliance. We use the same capabilities to manage new changes to the regulatory compliance environment. This means that your legislative compliance for data, security and processes are taking care of and not exposed to human error. So not only do you reduce manual processing time and effort, you also eliminate the chance of costly errors and protect valuable employee data.
Outsourcing payroll improves employee experience 
Whether you've 25 staff or 2,500 dealing with payroll queries is disruptive to an in-house team's productivity. Teams who are often wearing two or three different hats across HR or Finance, and using a number of different software portals. When you consider time to communicate with employees on the query and logging into different platforms to identify and resolve an issue, hours can be wasted each day.

On the other hand, outsourced payroll services like Qualitas operate a white label service that's branded with your logos and email addresses, offers excellent SLAs and are at the end of a phone ready to resolve any employee query quickly and efficiently. It's no wonder our clients report greater employee experience within 3 months of on-boarding. 
Most UK firms outsource payroll
Expert Market indicates that more than 6 out of 10 UK businesses outsource their payroll in 2022 and this figure is set to increase. Managing payroll internally no longer makes financial or strategic sense. Digitisation of payroll services has futureproofed payroll services and greatly reduced the risk of payroll scams or errors.  
Get payroll right, ever time by outsourcing to a UK based payroll provider
To save time on payroll processing and prevent the risk of human error, why not automate and outsource payroll services to a to a third-party specialist, who manages the entire process for you?

Get in touch today for a free, no-obligation quote and discover how a bespoke payroll package can drive growth and streamline efficiency.