One way to increase your pool of potential accountancy clients is to offer a holistic package of book-keeping, accounts, and payroll services. What makes us say this? Well, at Qualitas, time and time again, we hear from our accountancy clients and partners that the businesses they deal with prefer to keep their outsourced payroll and business accounts under the roof of one dedicated accountancy provider. 
Yet for many accountancy firms, managing payroll services can seem like thankless work. Low cost for high volume, with too many moving parts and variable complexities. 
One way to overcome these challenges is to outsource the payroll function of your accountancy firm to a third-party provider. This way, you get access to a much larger group of potential clients without having to do the hands-on work. 
At Qualitas, we offer two outsourced services to our accountancy partners, both of which offer rapid implementation, are low-cost of entry and help you expand your service roster to existing clients and new clients without investing time and resources into developing payroll expertise. 
These service options are: 
Partnered payroll services for accountants

White label payroll services for accountants
Partnered payroll services for accountants 
The partnered payroll service for accountants is a simple outsourcing service. There is no need for internal payroll training, we'll manage the whole process for you and our platform and specialist teams serve as a point of contact for your staff and your clients, as your trusted partner.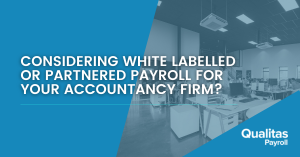 White label payroll services for accountants 
The white labelled payroll service for accountants offers your business all the benefits of an internal payroll team, via our secure platform and off-site service. Acting as your silent partner, under your company brand, we deliver payroll services as an extension of your business. The white label service offers a great deal of credibility to your employer brand, managing all employee queries as though we were an in-house function, yet offers all of the benefits of the partnered payroll service too. All without the costs of an in-house team or costly payroll software. 
Benefits of choosing Qualitas payroll services for my accountancy firm: 
Let us take care of your entire payroll function, end-to-end. Our packages have been designed to fit the needs of accountancy partners and to take care of their clients. 
Benefit from:
Partnered or white labelled payroll services with a dedicated UK account manager and phone line to manage questions and queries. 

Strategic pricing that allows you to offer your clients a competitive price as part of their entire accountancy package. 

A fully-branded online platform, with 24/7 access that hosts all wage slips, P60s, P11Ds generated with your company logos in situ

Preparation of weekly, fortnightly, monthly or other frequency of payrolls to fit your bespoke package and payment schedules 

Access to BACS and Faster Payments. 

Set up and implementation at no additional costs. 

Quick and easy set up. 
Ready to set up outsourced payroll for your accountancy firm?
Ready to access top tier payroll services and offer them to your clients at competitive rates? Get in touch today. At Qualitas, we have a highly experienced and trusted UK-based payroll team with over 150 years of combined experience across the full payroll spectrum, including but not limited to pension auto-enrolment, absence/sickness reporting, BACS payments, holiday scheme management and P11d preparation and submission. 
Add on Qualitas value added payroll services to your client offering and avoid manual admin, the risk of human error and fines, while taking advantage of our up-to-the minute software automations.