Although all payroll providers use different tactics to calculate the price of their services, the most common way of pricing an outsourced payroll cost of service is by the number of employees and the time frame for which the payroll service is being outsourced. For example, the price for a payroll client with 20 employees that operates on a weekly payroll term would likely be priced differently for a client with 20 employees which operate on a monthly payment schedule.
The simple explanation as to why the cost of outsourcing these payroll options is different is down to the requirements of processing a payment every single week, with the admin tasks associated, and processing payment only once per month.
The cost of outsourcing payroll can also vary depending on the level of service your business requires, and how many additional extras are added to the package. For example, some businesses choose to take on a BACS payment service, pension, and auto-enrolment services, employee benefits and expenses service, and holiday scheme administration amongst others.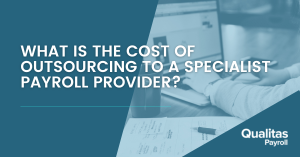 Outsourcing payroll can save companies a significant amount of money. The cost of hiring and training a payroll specialist can be extremely expensive and time-consuming, but also on the time spent on managing payroll throughout the month. Companies that outsource their payroll have to pay for the service, but avoid additional costs like annual leave cover for staff, training, and upskilling staff as well as technology and software license costs which can add up.
Outsource your payroll function today
At Qualitas Payroll, we provide easy-to-manage end-to-end payroll management and processing service, with a fully transparent costing structure and no hidden fees.
In addition to our fully-compliant and efficient software, we now offer clients an additional level of options thanks to continual innovation with our self-service offering.
Through the introduction of our modern interface, both employees and employers can access, update and record personal information through a slick and secure online portal. Employers have an additional capability to upload any company documents or policies to review, as well as provide access to employees for key updates to payslips, P60s, and P45s as well as utilising the simple and easy to use function for updating hours recorded for payroll.
We place full emphasis on providing our clients with a quality payroll service, continually achieving a high minimum core accuracy rate, and ensuring the real-time and accurate reporting of the payroll services function. We also employ a strict and multi-faceted reconciliation process which means by the time your service goes live, we have absolute confidence in its accuracy.