In today's business environment, driving operational efficiencies is a core objective across every function and department. This is true of payroll too. There's no need, nor excuse to suffer painful payroll processes.
Leading edge software solutions can offer task and reporting automations and eradication of manual processes. Third-party payroll providers can take care of regulatory compliance, HMRC filing and reporting, not to forget all employee communications – all for a low cost of entry per head.
So, it's easy to see that it makes sense to outsource your payroll function to a specialist payroll provider. What's not so easy to see however, is how you get there. Whether you're moving from in-house payroll operations or changing provider, the Qualitas team have put together this short guide to help make the transition quick and painless.
When to switch payroll providers?
You may be under the impression that the only time to switch is at the start of a new tax year. While that may be the optimum time to switch for a clean break and data control, most payroll providers can on-board new clients' year-round. Quarter end is a logical choice for most businesses, allowing a smooth transition to new systems and processes, with no need to port over needless data.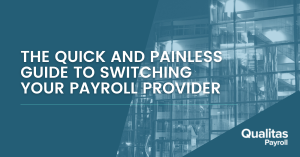 Overcoming internal challenges to switching
Like any change project, you're likely to face some internal challenges to switching payroll providers. Budget decision makers may hold perceived ideas that outsourcing payroll is expensive and cheaper to manage in-house. This couldn't be further from the truth. Outsourced payroll can cost as little as a few pounds a head. There are typically cost benefits to outsourcing payroll services, particularly when you consider the increasing software tech stack required to deliver accurate payroll.
Another challenge is that employees and decision makers may think it's easier to continue with the status quo – to manage in-house or stay with your current supplier. Migrating to a third-party payroll service doesn't need to be difficult. At Qualitas we offer a hands-on service that manages the entire migration, guiding you through the process from end-to-end, creating efficiency gains and payroll accuracy.
Maureen Milligan, Finance Director for Euro Environmental Group said:
"Qualitas have assisted us with improvements to our payroll processes and procedures which have increased the accuracy and efficiency of our payroll. The service and support received from Qualitas has been excellent."
Choosing the right payroll provider to switch to
When it comes to selecting a payroll provider to switch to, research, shortlisting and then asking the right questions of each before you commit is key. Even if you don't do go down a full RFP process, make sure you're happy with the discovery process, that should centre the benefits to your business. Be sure to ask for references from existing clients.
What to consider when you're switching
A few key considerations when switching payroll providers include:
Services and Support: what is the service level agreement and what support does the new provider offer to internal teams during transition and the employee base post-transition.
Training: what training will be offered for internal teams to understand the new processes
Migration timeframe: how long will the migration take and will there be any downtime?
Migration process: who manages the migration and what will be required from your team to make the process as seamless as possible.
When to migrate: make sure to pick the optimum time for your organisation, not just when suits your chosen provider.
Take the pain out of switching payroll providers
At Qualitas, we have a highly experienced and trusted UK-based payroll team with over 150 years of combined experience across the full payroll spectrum, including but not limited to pension auto-enrolment, absence/sickness reporting, BACS payments, holiday scheme management and P11d preparation and submission.
Migrate to Qualitas to save time on manual admin, prevent the risk of human error and fines, while taking advantage of our up-to-the minute software automations.
Get in touch with the team today for a no-obligation quote. Let's explore a bespoke package around your specific requirements and get you started on a transformational outsourced payroll service.