As more and more businesses realise the benefits of outsourcing payroll services, new payroll bureaus and cloud solutions have popped up in the marketplace. Yet, when you're trusting your employer brand and employee well-being, not to mention reputation with the tax man to a third-party provider, it's business-critical to ensure you're handing over your payroll function to a reputable, expert provider.  
Why should you choose Qualitas payroll services? 
As one of the leading UK payroll providers, at Qualitas our service quality, client health and reputation speaks for itself. Read why 250+ SMB and Enterprise clients trust us to deliver payroll services each month. 
Qualitas are the experts in payroll services. 
At Qualitas, our services are tried and tested. Founded in 2007, we've been trading for over 15 years and offer our clients a combined 150+ years expertise across our expert staff. Last year, we delivered payroll services to over 50,000 employees each month, processed £8million in BACS payments and produced and distributed all payslips, P45s and P60s. 
Qualitas consistently score in the top 95 percentile for customer satisfaction 
Qualitas place top-class customer satisfaction at the centre of the business, and we have done so from day 1. Our annual customer satisfaction surveys consistently score in the high 95th and our account managers are on hand day to day as a point of contact for their clients to answer queries and resolve any challenges.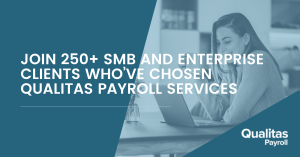 Qualitas offers low-cost, transparent pricing, with no hidden fees
Unlike other providers who offer tiered complex pricing structures or payroll software implementations which start off low cost but charges grow incrementally, at Qualitas our fees are clear, transparent and easy to understand. When we say that full implementation and payroll set up is free of charge, we mean it. We don't hide any fees, providing you full clarity on what your cost per head is – and we typically find our new clients are pleasantly surprised at how low cost our services actually are!  
Qualitas also partners with accountants to provide white label payroll services
Increasingly, accountants are realising the benefits of outsourcing payroll delivery to a third-party provider. We offer our accounting partners a bespoke, white labelled service that allows you to leverage another revenue stream within your client base without burdening your teams with additional work.  
Qualitas cares about your employee engagement
When you work with us, we commit to delivering the same level of employee care as we do to our own teams. The payroll process has been carefully designed and refined to ensure slick processes that leave your accounts teams free to work on high value tasks. Your wider employee network will have access our helpdesk via email, telephone and their personal on-line portal. And can white label these services and set service level agreements (SLAs) that fit your team's needs.   
Reliability
We have multiple control measures in place to ensure any possible errors are eradicated ahead of the payroll execution. 
Qualitas are UK based
The entire Qualitas team are UK-based, have decades of experience across accounting and the payroll spectrum. We have excellent working relationships, processes and protocols set up with HMRC and we manage everything from pension auto-enrolment, absence and sickness reporting, BACS payments, holiday scheme management and P11d preparation and submission. What's more we provide you with a dedicated UK-based payroll management specialist who will take care of your account.  
Qualitas offers best in class data insights, security and reporting 
Accurate data and robust reporting are at the heart of effective and efficient payroll delivery. We are fully compliant with data protection and security regulations, as well as the financial services regulatory landscape. Our multi-factor reconciliation process ensures 100% confidence in service accuracy.  
I want to outsource my payroll to Qualitas 
To access Qualitas' leading edge technology, benefit from our best-in-class service and access our team of payroll experts at a low cost per head, get in touch today for a no-obligation quote on