Businesses large and small in the UK could benefit from outsourcing their payroll function, regardless of business type, size of the employee team or geography. There are time, resource and costs savings to be had by using an external payroll bureau , for a surprisingly low cost per head.
What is outsourced payroll? 
By retaining and an external payroll bureau to deliver payroll services, you make sure that your employees are paid accurately, on time and in line with current UK working, tax and pensions legislation. You also remove the administrative and compliance burdens that typically fall on your finance teams who are already spread thin.
A specialist payroll bureau leverages best in class cloud payroll software and as well as tax, legal and financial specialists to manage service delivery. With your internal finance teams overburdened with the repetitive burden of payroll services, not to mention the high levels of risk involved with regulatory compliance requirements, it's no wonder that there's a spike in businesses driving payroll out of house.
Why choose an outsourced payroll provider 
– Timesaving and productivity gains  
The complexities of payroll make it cumbersome and monotonous repetitive work and one that adds zero strategic financial impact to the organisation. Outsourcing to a specialist payroll provider allows your teams to work on competitive, strategic financial goals instead of administrative tasks, ultimately supporting improved performance and growth.
– Reduces risk
At Qualitas, our expert team of payroll professionals stay up to speed with regulatory compliance, so that you don't have to. From calculating annual leave entitlement, sick pay and maternity pay to pensions administration and tax reporting, we are abreast of legislative frameworks and reduce your exposure to risk.
– Minimizes expenses
Internal payroll management can be an expensive endeavour. Outsourcing payroll services reduces the cost of administration, investment in technology and the constant training requirements associated with HMRC and DWP compliance.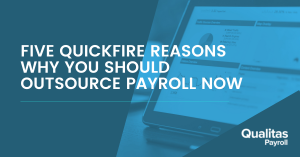 – Prevents mistakes
As a manual, repetitive administrative task, payroll delivery is extremely vulnerable to human error. This is particularly true when your finance teams are wearing a number of hats within the accounting function and their attention is spread thin. Outsourcing payroll means you can access leading edge technology, regular data backups and timestamps, as well as tried and tested program automation that reduce the risk of error.
– Improves employee relations 
With telephone support lines, online portals and a dedicated mailbox, overbranded with your logos and business name, any queries or complaints can be investigated and resolved quickly. We'll even set service level agreements to ensure your people's expectations are met, ultimately improving their payroll experiences.
Ready to benefit from outsourced payroll?  
Qualitas offers UK-based payroll services and over 150 years of combined experience across the full payroll spectrum. You can trust us with pension auto-enrolment, absence and sickness reporting, BACS payments, holiday scheme management and P11d preparation and submission.
Get payroll right, every time by outsourcing to a UK-based payroll provider. To save time on payroll processing and prevent the risk of human error, why not automate and outsource payroll services to a to a third-party specialist, who manages the entire process for you?
Get in touch with the team today for a no-obligation quote. Let's explore a bespoke package around your specific requirements and get you started on a transformational outsourced payroll service.