In this article, we're going to delve into and explore the benefits of outsourcing payroll management and processing, and how to choose the right provider for your business.

Understanding Managed Payroll Services

Before we dive into the benefits of using managed payroll services, it's essential to understand what these services are. Managed payroll services involve outsourcing your business's payroll processing and management to a third-party provider like Qualitas. The provider will handle all payroll-related tasks, including calculating employee salaries and taxes, generating payslips, managing annual leave entitlement, and for some clients, the actual paying of salaries via BACS services – an additional option that we can include in our bespoke packages.

Outsourcing payroll management has become increasingly popular in recent years as businesses look for ways to streamline their operations and reduce costs. Managed payroll services offer a complete payroll management solution, designed to streamline payroll processes and reduce the administrative burden on your business. The services are offered by professional payroll providers, who leverage their expertise, technology, and industry knowledge to provide a comprehensive solution that meets your business's unique needs.

Benefits of Outsourcing Payroll Management

Outsourcing payroll management offers many benefits to businesses of all sizes. One of the primary benefits is the time savings it provides. By outsourcing your internal payroll function, businesses can free up valuable time and resources that can be allocated to core business functions such as sales and other profit-generating activity.

Managed payroll services also provide access to the latest technology and best practices in payroll processing. These providers use advanced systems that are designed to maximise accuracy, minimise errors, and ensure compliance with tax laws and regulations. They also provide robust reporting and analytics capabilities that enable businesses to track critical payroll metrics, such as employee costs, taxes paid, and deductions.

Moreover, outsourcing payroll management can help reduce risk and liability for businesses. Payroll errors, such as incorrect calculations, can result in costly fines and penalties from HMRC. Managed payroll services providers assume much of this risk by ensuring that payroll processes are compliant and accurate, and know the processes and laws better than anyone.

Streamlining Your Payroll Process

Managing payroll internally can be a daunting task for any business, especially as the company grows. It requires a significant amount of time, resources, and expertise. That's why many businesses opt to outsource their payroll management to a managed payroll provider. Once you've chosen a managed payroll provider, it's essential to implement strategies to streamline your payroll process. Here are some steps to consider:

Assessing Your Current Payroll System

Before implementing any changes, it's crucial to assess your current payroll system. Take the time to identify pain points, bottlenecks, and areas for improvement. Evaluate your current payroll process from start to finish, including data entry, time tracking, and payment processing. In almost all cases, this process will highlight the amount of time wasted and valuable resources drained on tasks like this.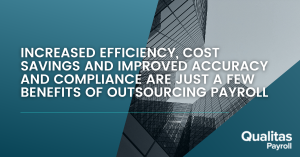 Ensuring Compliance and Accuracy
Compliance and accuracy are critical aspects of payroll management. It's crucial to ensure that your managed payroll provider follows all tax laws and regulations. Verify that the provider has robust internal processes and controls to ensure accuracy and compliance. Additionally, it's essential to stay up-to-date with any changes to tax laws and regulations that may impact your payroll process. This is one of the key benefits to working alongside a provider like Qualitas, who have a proven track record of achieving accuracy and absolute compliance.
Key Features of Managed Payroll Solutions
Managed payroll solutions offer many benefits that can help streamline payroll processes and provide valuable insights. Here are some key features:
Cloud-Based Payroll Systems
Cloud-based payroll systems provide access to payroll data from anywhere and on any device. The technology helps simplify payroll management, eliminate manual processes, and offer real-time visibility into payroll-related metrics.
Employee Self-Service Portals
Employee self-service portals enable employees to access their payroll information, such as payslips and annual leave.
The portals reduce administrative tasks for managers and increase employee engagement and overall satisfaction.
Customisable Reporting and Analytics
Customisable reporting and analytics provide valuable insights into payroll-related metrics, such as employee costs, taxes paid, and deductions. The reporting enables businesses to identify trends and opportunities to optimize payroll processes and reduce costs.
Now is the perfect time to explore the opportunities that an outsourced payroll provider can offer, so why not get in touch with our team today for a free, no obligation chat.