An outsourced payroll provider can present significant benefits to businesses of all sizes in the United Kingdom. By handing over the responsibility of managing payroll to a specialised provider like Qualitas, businesses can save time, reduce errors and avoid costly penalties for non-compliance. However, choosing the right provider can be a daunting task. In this article, we'll look at the key features a business should look for when deciding which company to outsource their payroll to and the benefits of doing so.
Expertise: The primary reason for outsourcing payroll is to ensure compliance with UK laws and regulations. Therefore, the first thing a business should look for in a payroll provider is expertise in UK payroll legislation. A good payroll provider should be able to keep up with the latest updates and changes in legislation, ensuring that your business is always compliant. At Qualitas, our team have a combined century of end-to-end payroll management and processing, so it's a tried and tested method that's been honed and perfected over the last 15 years.
Accuracy: Payroll is a complex process that involves many variables, including tax codes, employee benefits, and overtime pay. A reliable payroll provider should be able to process accurate and error-free payrolls, ensuring that your employees are paid correctly and on time. With a robust review and approval process in place, we ensure that we're always above industry standard when it comes to the accurate rollout of your payroll.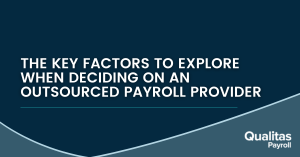 Security: The security of payroll data is critical. A good payroll provider should have secure systems in place to protect sensitive information, such as employee names, addresses, and bank account details. They should also have measures to prevent unauthorized access and data breaches. Our state-of-the-art technology and software systems provide an added element of data security, so it helps our clients to feel comfortable that their information is in safe hands.
Flexibility: Every business has unique payroll needs, and a good payroll provider should be able to offer flexible solutions that meet your specific requirements. This could include custom reports, payroll processing schedules, and integration with other systems. We offer every client a fully customisable, bespoke package designed around their unique requirements to ensure the service we provide is as cost-effective and efficient as possible.
CustomerService: The quality of customer service is an essential factor to consider when outsourcing payroll. You want a payroll provider that is responsive and proactive in addressing any issues that may arise. A good provider should also be able to provide ongoing support and advice to help you manage your payroll more efficiently.
Outsourcing payroll can provide significant benefits to businesses in the United Kingdom. By choosing a provider with expertise, accuracy, security, flexibility, and good customer service, businesses can save time, reduce costs, and avoid compliance issues. With the right payroll provider, businesses can focus on their core activities and leave the complex and time-consuming payroll tasks to the experts.
For more information on how we can work collaboratively to strengthen the efficiency, accuracy and cost-effectiveness of your payroll processes, get in touch with our specialist team today.