The first half of 2022 has been challenging for businesses worldwide. In the UK, the evolving cost of living crisis has already dented consumer confidence. Profits warnings have become profit slumps and on-going supply chain disruption is impacting available inventory for sale, ultimately also hitting the bottom line.  
Regardless of whether your business is currently thriving of surviving, in the face of imminent economic downturn, it makes sense to take stock of whole of business costs, and identify where cost savings can be made and productivity efficiencies gained.
Protect your EBIDTA and reduce non-essential payroll costs 
 
There are lots of expenses that can be trimmed in any businesses. Payroll services are one of the business functions where most firms will find savings to be made. While paying your people and reporting to HRMC accurately and on time is business critical, administrating payroll is a zero-sum game.
The payroll function doesn't add any strategic value, in fact managing payroll in-house actually detracts your Finance and HR specialists from higher value tasks that do add long term economic value to the business.
The payroll processing pain for finance professionals  
For your average payroll administrator, their role typically involves managing lots of moving parts, including: 
Salaries and expenses

 

Taxes and NICs

 

Benefits

 

Holiday entitlement

 

Sick leave

 

Pensions administration

 

HRMC and DWP reporting

 

Employee enquiries

 

Correcting errors

 
Plus, a whole range of other variable payroll complexities, for example, recent pandemic response initiatives which impacted payroll delivery.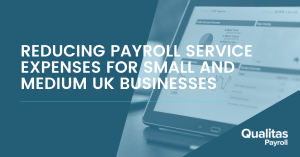 Running payroll manually or investing in technology to automate your payroll is an expensive route to payroll administration. Furthermore, the more manual your payroll processes are, the more your firm is exposed to human error.
Outsource payroll to a third party payroll provider  
Thankfully, there is a low cost, easy to access way to process payroll efficiently, with 100% accuracy. And that's to free up your in-house specialists from manual payroll provision and outsource to a third-party payroll bureau.  
Here are just a few benefits of outsourcing payroll: 
Reduce payroll costs

– why pay an in-house payroll team to perform repeatable administrative tasks and take them away from high value strategy? Lighten their load and direct their attention to growing the business!

 

Decrease time to delivery

– outsourcing payroll allows you to access leading edge payroll technology, speeding up your turnaround times from weeks to days or even hours.

 

Minimise errors –

at Qualitas, our guarantees ensure that by go live, processes are watertight and no room for human error.

 

Improved data security – when you centralise your processes, you are constantly working from one source of the truth with data protection and compliance fully automated in line with HMRC and DWP Making Tax Digital requirements.

 
No matter what size your business or stage of growth you are at, we are certain that you'll benefit from outsourcing your payroll function. We're sure you have questions! Our team are ready to answer your queries now. Get in touch today for a no-obligation discussion.