For SMEs and Enterprise businesses alike, the global pandemic served as a catalyst for streamlining ineffective and cumbersome internal business processes. In their place came leaner, agile processes and smart outsourced options that provided the cost and resource efficiencies needed to ride the storm of the challenging trading conditions created by the health crisis 
With return on investment proven across the board and positive user adoption of outsourced payroll services, uptake is projected to grow. In fact, recent reports which surveyed the likes of PwC, Deloitte, and KPMG found that the global Payroll software market is projected to achieve a compound annual growth rate (CAGR) of 8.57% during the period of 2022-2026. 
When you consider why businesses are turning their back on internal payroll over outsourced payroll, you may be surprised to learn that the benefits aren't just cost-driven. Our top three benefits of choosing a technology-first payroll provider: 
Keep up with technology-first payroll processes 
We're living through a rate of constant innovation in technology, not just in payroll services, but across the board in work and play. Staying ahead of the changes in tech within an internal payroll function is no longer realistic or tenable. This is before you even consider how you recruit or upskill staff to use the new capabilities. Outsourcing payroll means your organisation can access these changes in real-time. While providers meet the technology investment costs and leverage their internal skillsets to deliver your services. Added bonus? You'll undoubtedly reduce costs using an outsourced payroll company like Qualitas.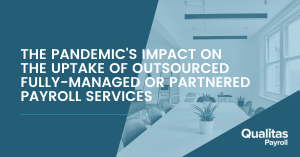 Reduce your exposure to risk
The complexities of delivering payroll services – internal or external – cannot be overstated. Mistakes can have a reputational impact and can impact morale from an employee's point of view. Repairing administrative payroll errors can also take time to uncover, particularly if you're using legacy administration processes based on tools like Excel.

Just as importantly, failure to report accurately or meet new and ever-shifting regulatory requirements can impact your relationship with HMRC and leave you open to fines. These can range from tax and pensions matters to changes to benefits or and SSP – case in point Furlough and Covid Sick Pay schemes. These changing policies added an extra stand of risk to internal payroll teams and proved a case for outsourcing to expert providers. 
Improve your data security 
As we all moved to work from home scenarios during pandemic, data security was front of mind for IT, compliance and operations departments of most organisations. Working from kitchen tables and front rooms meant the data protection measures organisations took for granted working on premise couldn't be assumed.

Personal data doesn't get more sensitive than those related to payroll. Covering earnings, banking details, personal sickness, pension provisions etc; internal payroll functions had to be audited to make sure they were treating this personal data securely. Unfortunately, many organisations found manual work from home data security provisions lacking. 
Outsourcing payroll services means that the smallest of businesses can take advantage of new processes and technologies that have been implemented at pace to ensure data protection. As technology-first providers, payroll providers like Qualitas should be first choice to ensure compliant services. 
Ready to outsource to a leading payroll provider? 
Deloitte's recent Global Outsourcing Survey highlights that outsourcing [services like payroll] will play a significantly more strategic role in long term resilience and long-term growth. With the benefits of outsourced payroll already on your radar, why not get in touch with the team at Qualitas today for a no-obligation quote.